Lead Time: Typically ships within 20 to 30 business days, depending on production schedule.
Shipping and delivery info: Some lengths ship Freight. Click on "Specifications" for details.
About this product
Features
Made by John Boos & Co. in the USA
Hard Rock Maple, Blended-Grain Style
Finish Options: Natural Oil or Varnique
Thickness: 1.5"
Width: 32"
Lengths from 36" to 145"
Optional 4"-High Backsplashes
Important Notes
Countertop undersides are unfinished, so can show imperfections.
Cutting into a Boos countertop (e.g., trimming its length or width or executing miter cuts or cutouts) will void the manufacturer's warranty. If you contact us, we will happily provide a price quote for a factory-warranted cut. Blended tops are not suitable for sink or stove cutouts.
If you plan to cut into your countertop nevertheless, be advised that metal fasteners are used in blended-grain countertops to add structural strength.
Blended Maple Butcher Block Countertops Integrate Maple Strips of Varying Length and Color to Deliver an Intriguing, Variegated Look
Hard Rock Maple is the preferred North American hardwood when it comes to butcher block countertops. Maple is especially rigid, plus its neutral colors – a blend of creams, light tans and soft browns - makes it perfect for nearly any kitchen décor. Maple is considered timeless because it's suitable for quaint, country kitchens as well as contemporary kitchens. You can't go wrong with Maple; it has universal appeal.
A blended maple countertop is indeed a "blend" – a blend of maple wood strips of various lengths and various coloration. The end result resembles a wooden patchwork quilt wherein each individual piece contributes its unique colors and grain pattern to the final work.
The wood pieces used to span each row of the butcher block are finger-jointed together with glue and exposed to heat and pressure to impart strength and durability to the block. Interior rails are then rotated 90 degrees so that finger joints do not appear on the block's top. In order to maximize the block's strength and beauty, wood strips that run the entire length of the countertop are used for the outside rails of each blended countertop.
If No Standard Size Will Fit Your Needs, Order a Custom Countertop
John Boos blended-maple countertops come in a wide range of standard sizes, so it's likely you will find a size that fits your needs. But if no standard size countertop will meet your exact needs, then opt for a custom solution. Try our easy-to-use online price quote generators to compare prices across different wood types and grain styles.
Choose a Natural Oil or Varnique Finish for Your Countertop
John Boos & Co. has been making butcher block products for over a century. To this day they remain the industry leader. Boos Blocks are popular among professional chefs and home cooks alike. If you too like to cook and you're looking forward to chopping, slicing and dicing on your new wood counters, then you should opt for a natural oil finish. And be sure to add Boos Mystery Oil or Boos Block Board Cream with Beeswax to your order, since you'll want to do everything you can to prevent your countertops from drying out and cracking or splitting.
Your other finish option is Boos-proprietary semi-gloss called Varnique. It preserves and protects wood and provides a luster typically associated with fine furniture. Another advantage is that it's virtually maintenance free. But note that Varnique surfaces should not be cut upon! Instead, you'll need to use a cutting board for any slicing, dicing or the like.
Add a Maple Butcher Block Backsplash As A Finishing Touch
Backsplashes help minimize messes and the need for clean-up. Plus, they cap off the professional look and feel of authentic butcher block.
These face-grain Boos maple backsplashes are 4" high and ¾" thick. The top edge is slightly eased (lightly sanded). The finish of your backsplash will match your counter/island top finish selection.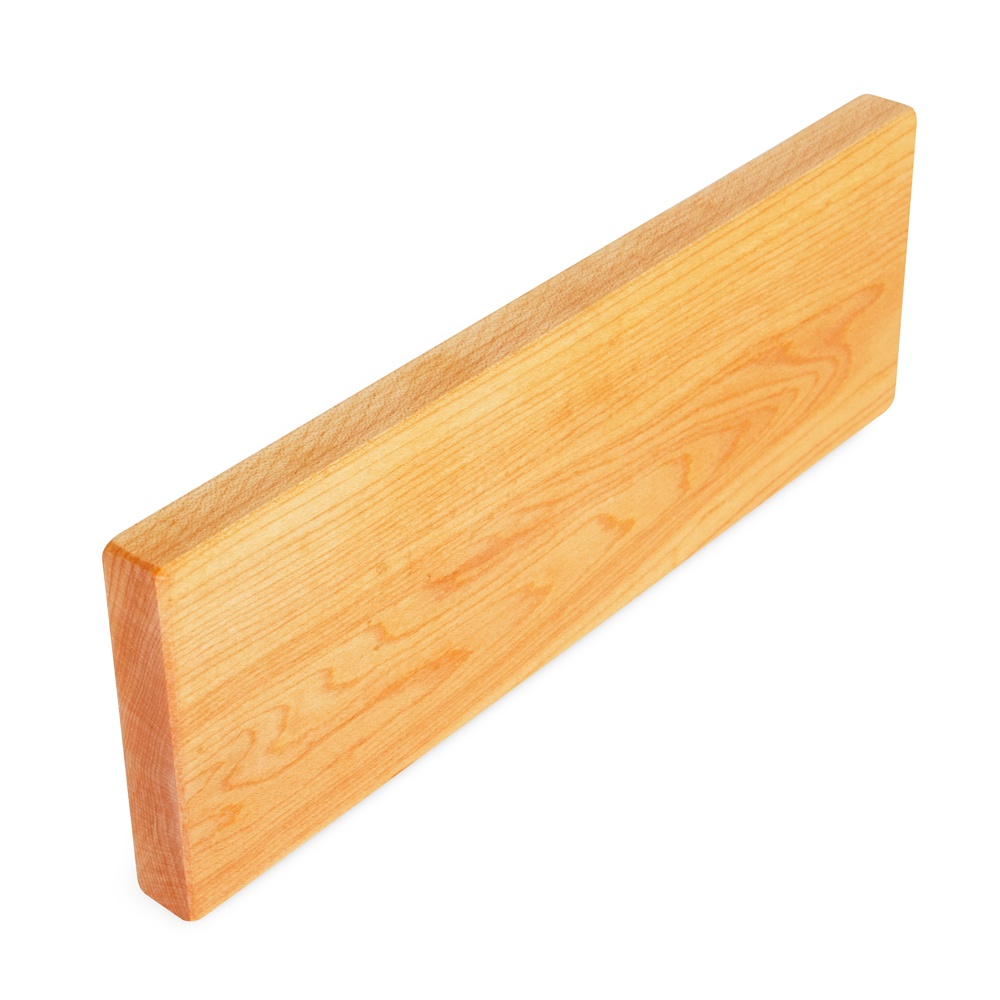 Details
| Sale Price | Model # | Length (in.) | Width (in.) | Thickness (in.) | Weight (lbs.) | Ships | UPC |
| --- | --- | --- | --- | --- | --- | --- | --- |
| $367.00 | KCT-BL3632-O | 36 | 32 | 1.5 | 53 | UPS | 662969656270 |
| $614.00 | KCT-BL4832-O | 48 | 32 | 1.5 | 70 | Freight | 662969656294 |
| $693.00 | KCT-BL6032-O | 60 | 32 | 1.5 | 88 | Freight | 662969656324 |
| $780.00 | KCT-BL7232-O | 72 | 32 | 1.5 | 106 | Freight | 662969656348 |
| $855.00 | KCT-BL8432-O | 84 | 32 | 1.5 | 123 | Freight | 662969656379 |
| $931.00 | KCT-BL9732-O | 97 | 32 | 1.5 | 142 | Freight | 662969656393 |
| $1061.00 | KCT-BL10932-O | 109 | 32 | 1.5 | 160 | Freight | 662969656423 |
| $1240.00 | KCT-BL12132-O | 121 | 32 | 1.5 | 177 | Freight | 662969656447 |
| $1691.00 | KCT-BL13332-O | 133 | 32 | 1.5 | 195 | Freight | 662969656478 |
| $2144.00 | KCT-BL14532-O | 145 | 32 | 1.5 | 213 | Freight | 662969656492 |
Satisfaction Guarantee
John Boos & Co. backs up its products with a one-year warranty against defects in material and workmanship.
Boos will either repair or replace a product determined to be defective. This warranty does not apply to damage resulting from normal wear and tear, accidents, abuse, neglect, misuse, alterations* or exposure to extreme conditions. Nor does it pertain to wood products ordered unfinished. Neither Boos nor Butcher Block Co. will be liable for any loss or damage arising from use of products or for any consequential damages.
*Cutting into a Boos countertop (e.g., trimming its length or width or executing a miter cut or a cutout) will void the manufacturer's warranty.
Precision Warranty
Boos warrants that the exact length, width and thickness of any countertop will not vary from specifications by more than 1/8 of an inch.
Returns & Exchanges
If you are unhappy with your purchase for any reason, you may return or exchange it within 30 days of the date of purchase. Since all John Boos products are made-to-order, a 20% restocking fee will apply and you will be responsible for return shipping costs. Custom countertops cannot be returned or exchanged unless the goods arrive damaged and the word "Damaged" was written on the bill of lading or another shipping receipt.
Lowest-Price Guarantee
If you find the identical, brand new product for less (including shipping & handling) on another website within 3 days of your purchase, email us the URL of the webpage where you found the lower-price offer. If the online seller is an authorized John Boos dealer, we will refund the difference. Butcher Block Co. will not always be able to match a lower price offer (e.g., in cases where doing so would violate legal agreements between us and our manufacturer-partners) and any refund may be limited (e.g., in cases where the competing offer is below our total cost).