Happy Customer Photo Gallery
Scroll down to see customers' pictures of John Boos butcher block products.
CUSTOMERS LOVE THEIR BB Co.-BRAND BUTCHER BLOCK & PLANK STYLE COUNTERTOPS!
Custom Hand Scraped Walnut Plank Style Bar Top, from BB Co.
Scott, from PA, outfitted his bar with two custom size Plank Style tops with a conversion varnish finish. It looks very inviting. Cheers!
Custom Brazilian Cherry Edge Grain Butcher Block Island Top, from BB Co.
Kathleen, in Texas, says her beautiful kitchen island top is perfect! And she is so pleased with the "excellent workmanship."
BB Co. brand American Cherry Edge Grain Butcher Block Island Top
Bob, our customer in Hawaii, created this kitchen island with a cherry on top! American Cherry Edge Grain butcher block, that is!
Custom Red Oak Edge Grain Butcher Block Island Top, from BB Co.
Jim "gets lots of compliments" on his new butcher block island top he recently installed in his California home. It is both functional and beautiful.
BB Co. Custom Knotty Alder, Hand Scraped and Stained Island Top
Amie stained her Knotty Alder Plank Style island top to match her walnut colored cabinets, then finished with a glossy varnish. She created a spectacular kitchen in her California home.
BB Co. Custom 2" Thick Maple Edge Grain Island Top
DIYer Monica, from Wisconsin, refinished an old dresser to match her new kitchen cabinets. Then she topped it with a maple butcher block to create a quaint and functional island with seating. Very charming!
Custom 3" Thick American Cherry End Grain Butcher Block Island Top, from BB Co.
Karen had an existing console table that fit perfectly in her Savannah kitchen, but wanted a butcher block top. She ordered an island top 73"L x 18"W and mounted it to her table.
Custom Beech Butcher Block, 4.5" Thick, from BB Co.
DIYer Elise, from Maryland, refinished the base of an old end table, added wheels, and topped it with a hefty 4.5" Thick Handscraped Beech Butcher Block, creating this delightful kitchen island cart.
Butcher Block Co. Custom Walnut Plank Butler's Pantry
Wow! Three custom countertops help to create this spectacular Butler's Pantry for Amanda's California home. Features a Roman Ogee Edge across the front and mineral oil finish.
Custom Beech Edge-Grain Island Top, from Butcher Block Co.
Check out this fix-and-flip remodeled kitchen sent in by our happy customer, Tammy from Arizona. Beech is a beautiful hard wood and an affordable alternative to maple.
BB Co. Custom Edge-Grain Maple Island Top Insert
We love Walter's kitchen remodel, including our custom edge-grain butcher block top with varnish finish inset into his quartz countertop. Creates a lovely breakfast bar. Cute puppy not included.
Butcher Block Co. Custom Walnut Island Top Overlay
Cindy married walnut edge grain butcher block with her slate countertop, to create a clever work area at the end of her island.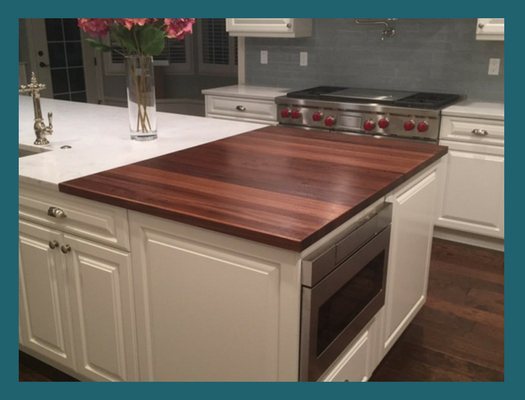 Plank-Style American Cherry Island Top, from Butcher Block Co.
Teresa from Tennessee is so proud of her island top upgrade. Even though she ordered it with an oil finish, it may be too pretty to cut on!
Butcher Block Co. Maple Edge Grain Dining Booth
Strandberg Custom Homes & Designs in WA created this floating table with benches from maple butcher block using mortised steel supports & channel steel.
Plank-Style Walnut Breakfast Bar with Handscraped Finish, by BB Co.
Kelly created a 7 foot long breakfast bar in her Hermosa Beach home, featuring this rustic looking handscraped walnut plank-style top.
BB Co. Custom 3" Thick Hickory Edge-Grain Kitchen Countertop
William ordered this hefty 3" thick countertop unfinished and finished it himself. Hickory is a very hard wood with pretty grain patterns. A lovely addition to this quaint kitchen.
BB Co. Supplied This Custom Walnut Plank Island Top
Jeffrey built his own kitchen island with storage and seating. We love his clever design for storing wine bottles. And he topped it off with our own Walnut Plank Countertop.
CREATED HARDWOOD SLABS MAKE GREAT TOPS FOR COUNTERS, DINING OR LIBRARY TABLES, OR DESKS.
Created Hardwood One-Of-A-Kind Live-Edge Walnut Slab Library Table Desk
Kathy had her sights set on a Live Edge Slab that would complement her home's natural setting in the midst of the largest contiguous ponderosa pine forest in North America in Flagstaff, AZ. She chose this gorgeous Walnut slab set atop "Points" legs. The narrow natural edge table came completely finished and ready to assemble. Holes for screws were even pre-drilled.

JOHN BOOS BUTCHER BLOCKS, COUNTERTOPS AND TABLES ARE SURE TO DELIGHT.
John Boos Custom Size Maple Edge Grain Butcher Block Countertops
Bettie, from MO, loves her new John Boos maple butcher block kitchen counters. And we love the look with her gorgeous tile backspash!
John Boos Standard Size Cherry End Grain Butcher Block Island Top
Darin and his wife love their new cherry end grain kitchen island top with John Boos logo and decorative plugs. The island makes for a charming gathering place in their kitchen!
John Boos Maple Edge Grain Butcher Block Island Top
Doug retrofitted his current kitchen island top with a large butcher block cutting board, giving him valuable work space for food prep.
John Boos Custom Size End Grain Maple Butcher Block Island Top
Tim, from Colorado, topped his rolling Kennedy Tool Chest, with a maple end grain butcher block. Making his own drawer inserts, Tim created the perfect portable kitchen island!
John Boos Standard Size Blended Maple Countertops
Nick, a contractor in the NW, recently completed this stunning kitchen remodel by customizing, on site, four standard size blended maple butcher block countertops.
John Boos Customized Blended Maple Island Top
We customized this island top to include beveled edges and clipped corners for our customer, Tracey, from Minnesota. Wow! What a spectacular gathering place she has created.
John Boos "C" Classic Country Work Table with Alabaster base
Christina, from New Hampshire, says this is "a beautiful, high quality piece of furniture that I will enjoy for many years."
John Boos Custom Baker's Table - Maple Butcher Block with Stainless Steel Base
Anna designed this custom baker's table of her dreams for her Florida home. It is an impressive 14 feet long and includes drawers, shelves and cooling rack! Very impressive.
John Boos Blended Maple Countertop - Before and After
Wesley turned a small prep space into a larger work area with the addition of a 42"L x 27"W butcher block island top!
John Boos "OC" Oak Country Work Table with Black Base
Stacy, from Macon Georgia, describes her table as "awesome and gorgeous." This 36"L x 25"W table serves as a small, working island in her kitchen.
John Boos Maple Edge Grain Butcher Block Island Top
Kathryn, from New York, "Loves, loves, loves it!" We think her new island top creates a perfect gathering place in her beautiful kitchen.
John Boos Walnut Edge Grain Butcher Block Island Top
Sarah, from New Hampshire, replaced a tile counter with this beautiful walnut countertop on her kitchen island. She couldn't be happier with the finished product!
John Boos Hefty 4" thick Maple End Grain Butcher Block
Our DIY customer, Kaleb from Washington, designed and created this industrial style coffee table featuring a hefty 4" end grain butcher block. Very creative!
Boos Gathering Block III, with a Black Painted Base
Phil, from Oregon, shared with us his beautiful 48" x 24" x 4" maple end grain Gathering Block III which serves as a perfect kitchen island for food prep.
Boos "OC" Blended Oak Country Work Table, with a French Roast Colored Base
A beautiful and functional addition to this "craft" room, this Oak Country Work Table was ordered with casters, drawer, and three handy storage baskets.
Custom-Size Blended Walnut Island Top with a Custom Cutout, from Boos & Co.
Bryan ordered his top custom made for his island, including the ingenious scrap hole cutout. A 1.75" top with oil finish makes this butcher block a work horse in his Georgia kitchen.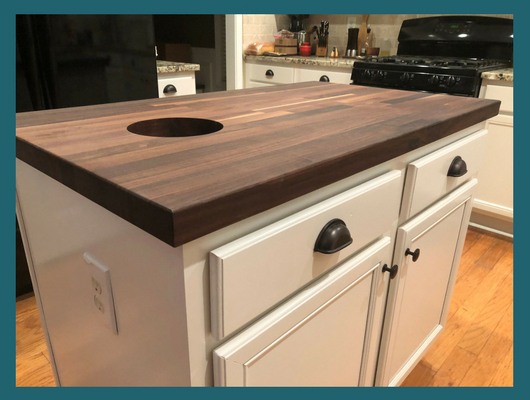 A Standard-Size Blended Maple Butcher Block Countertop (John Boos)
This 36" x 27" countertop may be on the small side, but it is mighty! It serves as a great workcenter in Joanne's Florida kitchen.
Boos Standard-Size Blended Walnut Butcher Block Island Top
No customization was required to get this beautiful look in Rachel's Colorado home. This 8 foot long beauty of a top completes her kitchen island family gathering place.
11.5 Feet-Long Boos Butcher Block Island Top, Featuring Blended Walnut
This stunning 1.75" thick butcher block island top is the focal point of Sue's beautiful Illinois kitchen.
Maple Edge-Grain Butcher Block with Custom Angle Cuts - A Boos Specialty
Eliud ordered 3 custom countertops to complete her kitchen, including one with an angle cut to fit her corner. She chose to run the grain pattern all in one direction, too.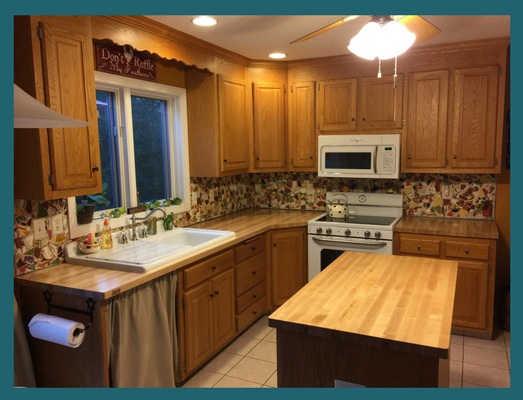 1.5" Thick Maple Edge-Grain Butcher Block, Customized by Boos for a Steel Kitchen Cart
Michael created his own kitchen cart by adding a butcher block top to this handsome stainless steel rollaway. Great storage for all his cutlery!
Custom Maple Edge Grain Island top 1.75" Thick, with Corner Cutout
Jennifer specially ordered this countertop with eased edges and corners and with a "clipped" cutout adjacent to her sink for easy passageway. Great work space and gathering place.
Standard-Size Cherry Island Top by John Boos - 1.75" Thick, in Edge-Grain Style, with a Stovetop Cutout
David ordered a standard size countertop and made a cutout on site for his drop in stove top. Designed as a work center on one side, and a breakfast bar with seating on the other side.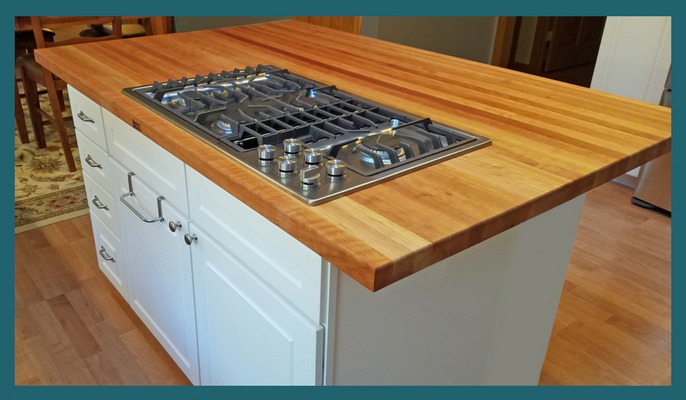 Custom-Size Walnut Edge-Grain Tops Make Beautiful Desks for Offices and Kitchens
Jerome made his own very modern office desks from custom walnut butcher block and custom stainless steel bases supports.
Boos Round Dining Table Top in Maple Edge-Grain, 54 Inches in Diameter
This 1.75" thick maple butcher block provides a sturdy and attractive dining table top in Vicki's California home.
A Boos Blended Maple Butcher Block Finishes off This DIYer's Kitchen Table with Seating
Thomas crafted his own kitchen table by making the table legs and shelf, topping it with a standard size maple countertop with Varnique finish.
This Walnut Edge-Grain Boos Countertop Features a Varnique Finish
The rich warmth of walnut butcher block contrasts nicely with the white cabinets and wainscoting in Marjorie's kitchen makeover.
Boos Custom 1.75" Thick Maple Island Top, in Edge-Grain Style
The focal point of Christina's Las Vegas kitchen is this center island featuring a beautiful and sturdy butcher block work surface.
Blended Walnut Countertop, Custom-Made by John Boos
Elizabeth's spectacular California kitchen marries butcher block with other modern materials in this recent remodel.
Boos Gathering Block III Features a 4" Thick Maple End-Grain Top
Simone's Gathering Block with black base is a gorgeous addition to her modern kitchen.
Boos Walnut Edge-Grain Dining Table Tops Are Perfect for Restaurants Too
Resort Interiors of Myrtle Beach, SC handled the re-designed for Edgar's Hermano Restaurant in Houston, Texas.
Maple Edge Grain Island Top, Custom-made by Boos, Featuring a Stovetop Cutout
This 1.75" thick maple butcher block island is the work "center" for this kitchen.
Return to our Help Center