---
Custom Wood Countertops and Island Tops in 15 Different Gorgeous Species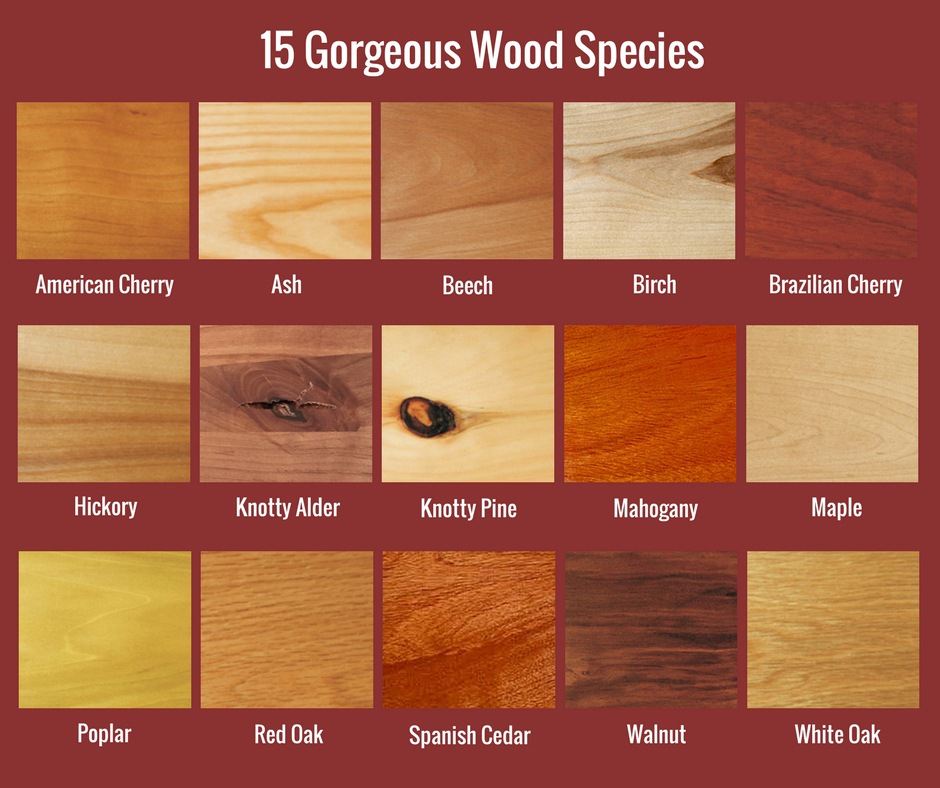 Butcher Block Co. countertops are available in the four most popular North American hardwoods - Rock Maple, American Cherry, Black Walnut and Red Oak – plus 11 other equally spectacular species: Ash, Beech, Birch, Brazilian Cherry, Hickory, Knotty Alder, Knotty Pine, Mahogany, Poplar, Spanish Cedar and White Oak.
View our extraordinary array of species and grain styles.
If you're looking for a gorgeous island or counter top for a residential or commercial kitchen, you'll find a wide range of stunning options in various shades of beige, tan, brown, reddish brown and gold. Choose among species with muted, consistent coloration to others with medium to high color variegation.
For workshop or industrial applications, opt for a species that's especially hard. Soft and moderately hard species should be suitable for most home and commercial offices.
IMPORTANT NOTE: These custom-size counter tops and cutting boards are not reversible. To make yours reversible, please give us a call (15% upcharge).
Plus Quarter-sawn Countertops in Red or White Oak
When lumber is quarter-sawn, it means the log was first cut into four quarters, just as you might cut a pie into four equal-size slices, then each quarter of the log is sawn. As a result, the annual rings of the source tree run perpendicular to the faces of the harvested boards, which reveal striped grain lines that run fairly straight and provide a unique look that some people prefer for wood counters and furniture. The other key advantage of quarter-sawn countertops is their superior stability. Each rail of the top is much less likely to warp or cup (i.e., become concave - high on outside edges and low in the center).
Comparing Wood Species on Hardness
The Janka hardness test, which measures a wood's resistance to denting, is widely accepted as the standard for comparing different wood types on hardness. The test measures the amount of force, in pounds-force (lbf), required to embed a steel ball of specific size into the wood. As you view the data, keep in mind two points. First, the hardness of wood varies depending on its orientation (i.e., testing along the wood's grain vs. against it). Second, findings can vary from sample to sample, and even within a particular sample. Consequently, you should not consider any data point as especially meaningful. Rather, we share these findings to give you a general sense of the hardness of a species relative to others. Here's another visual tool to help you choose a species based on both of the above attributes: appearance and hardness.
Comparing Wood Species on Price
Very Affordable: Poplar, Knotty Alder, Knotty Pine, Beech, Ash and Birch are the least expensive options. They typically cost somewhere between half to about two-thirds as much as walnut, the price leader.
Moderately Affordable: In the mid-priced tier are classic varieties: Red and White Oak, American Cherry, Hickory and Maple.
More Pricey: Accompanying Walnut in the higher-priced bracket are Mahogany, Brazilian Cherry and Spanish Cedar. These species are also considered the most visually striking.
Our Custom Butcher Block Countertops Come in Edge-Grain and End-Grain Styles
Edge-grain wood is constructed by bonding together long wood rails that run the full length of the block. The wood rails are arranged face to face, so it's the edge grain of the wood that shows on the surface of the countertop. In contrast, end-grain tops provide glimpses of the growth rings of the source tree.
Regardless, the wood rails used in Butcher Block Co. countertops are 1-inch wide strips. As mentioned, in edge-grain countertops each wood rail spans the top's full length; whereas our end-grain counters utilize rails from 1-1/2 to 6 inches long and arranged in rows that run parallel to the width of the counter.
Wood Plank Countertops Too!
Plank-style wooden island/counter tops are another option. Each is composed of wood planks bonded together and running parallel to the length of the counter or island. The surface of a plank island or counter top shows off the face grain of wood.
Our plank tops utilize boards that vary in width from 3 inches to 6 inches. Variation delivers a more natural and interesting look.
Hand-Scraping Adds a Rustic, Aged Look
If you're seeking an antique-like appearance or a look of authenticity, consider specifying a hand-scraped finish for your edge-grain or plank countertops. To produce this effect, the Amish craftsmen who make all our lovely countertops guide a wood scraper longitudinally along the wood, causing very slight variations in its surface. The effect is most noticeable when viewing the wood under nearly horizontal lighting, which tends to accentuate the unevenness.
Do You Need an Extra-Large Island Top or Table Top?

No matter what your needs are, it's likely we can satisfy them. Whether you're looking to cover a small countertop work area, or an island 15 feet long and 7 feet wide, we have the capability.
Here's a great example. We created this extra-large plank-style table top made of 1-1/2-inch-thick Knotty Alder for a new Italian restaurant in San Diego. It's 5-1/2 feet wide and nearly 10 feet long, and it seats 18!
Finish Options Are Natural Oil, Conversion Varnish, Unfinished, Waterlox and Urethane
If you want an unfinished top you intend to finish yourself, select "Unfinished" as your finish choice.
If you plan to cut on your counter or island top, select food-safe "Natural Oil" as your finish selection, since oil helps protect and preserve wood. Know you will need to re-oil the top about once a month. Also, be aware that early on, applying mineral oil or butcher block oil can sometimes subtly raise the grain of the wood, making it feel rough to the touch and requiring buffing or light sanding and re-oiling until the roughness subsides.
If you do NOT plan to cut directly upon your new top and would prefer the lower maintenance and lifetime protection that clear-coat varnish provides, select "Conversion Varnish" as your finish selection. Our 40-sheen semi-gloss conversion varnish is professionally applied to ensure a smooth and lustrous finish.
We offer two other special finish options. If either is of interest, please call for pricing.

Waterlox is ideal for a countertop or island top that will be positioned near a sink since it's highly water-resistant. This Tung Oil-based product leaves a 30-sheen satin finish and is easy to re-apply.


Commercial-grade Urethane is another commercial spray-on option. Water-resistant, this finish is appropriate for bar tops and restaurant tables. It leaves a 40-sheen semi-gloss finish that's quite durable.
You Have 8 Edge-Style Options to Choose Among
BB Co.'s standard (default) edge is "square, sanded lightly," to remove any sharpness. This edge style is perfect where a countertop will abut a wall, for instance. If you like to think outside the box, consider edge styles with a bit more visual interest, such as Eased, Beveled, Radiused or Cove. For a timeless look, think about the elegant Radius & Step edge design or the classic Roman Ogee (two sizes).
We Also Offer Backsplashes!
Need a backsplash or two, or three? No problem. Just give us a call or send us an email. There's no classier way to finish off your kitchen remodel.

If You're Leading Edge, Consider a Waterfall-Edge Kitchen Island. They're All the Rage.
When a kitchen island top continues down the ends of the island, it's called a waterfall island.
Of course, this moniker alludes to the imagery of flowing water cascading down a vertical wall.
A waterfall-edge island can make your kitchen truly stunning.
BB Co. waterfall islands can ship in two different modes - either pre-assembled (1-1/2-inch minimum thickness); or knocked-down and ready to assembly on site (in the event doorways are not sufficiently wide).
We use heavy-duty wooden dowels to secure ends to the top of a factory-assembled waterfall island and attach sturdy skirt boards to both long sides to protect it during shipment. Pre-assembled islands are self-standing and require no additional support. You have the option to select either a Natural Oil or a Conversion Varnish finish, or no finish at all.
Ready-to-assemble waterfall-edge islands ship unfinished, with all the necessary hardware included. Any experienced DIYer or capable craftsman should be up to the challenge. Sanding will be required after assembly is completed and the RTA waterfall top must be properly supported.
How To Assemble an RTA Waterfall Kitchen Island
| | | |
| --- | --- | --- |
| Holes are pre-drilled where the boards are to be joined – holes to hold the female gear heads, and smaller holes through which the male screw shafts are to be inserted. | | |
Waterfall Island Limitations
Waterfall islands only come in plank style.
The combined length of a waterfall top and ends is limited. See the maximum LENGTH restrictions for PLANK tops by species.
The maximum width (depth) of a waterfall island is 48 inches.
If you would like us to provide a price quote on a waterfall island or counter top, please call or email us with specifics.
Order Changes or Cancellation
To minimize lead time, we commit to raw material purchases 24 hours after you place an order. Consequently, you will have only 24 hours to change or cancel your order. AFTER 24 HOURS, YOU CANNOT CANCEL YOUR ORDER. While we will make our best efforts to accommodate any change order, some changes will require a change fee.
Product Warranty
We warrant that your countertop will be free of defects upon arrival. If it appears to be defective or damaged, you must notify us by phone or email within seven days of receipt. If it is determined to have defects in materials or workmanship, or to have suffered damage during shipment, it might need to be returned to us for repair or replacement, at our discretion. Furthermore, we will cover any glue-joint delamination that occurs within one year from receipt. If a glue joint does delaminate, please notify us promptly. The countertop might need to be returned to us for replacement or repair, at our discretion. We will cover return shipping charges and appreciate your patience while we work toward an expedited resolution.
This warranty will be voided in the event that:
If unfinished, the countertop was not properly finished with natural oil or varnish within seven days of receipt;
The countertop was not installed in accordance with installation instructions (e.g., remember that wood, a natural material, will expand and contract);
The countertop includes a cutout for a sink or appliance;
The countertop was modified in any way, other than as is necessary for normal installation;
The countertop was exposed to extreme conditions or swings therein, including but not limited to, very low or very high humidity or temperature;
The countertop was exposed to water, other than minor splashes or spills that are immediately wiped up; or
The countertop is not properly maintained. If the finish is natural oil, oil must be applied to all accessible surfaces on a regular basis.
Exclusions:
Variations in color and/or grain are not considered defects.
Minor warping is not considered a defect.
No promise can be made with respect to the ratio of heartwood to sapwood in any countertop.
Return to Homepage
REVIEWS
Our Customers Love Their Custom Countertops