Lead Time: Typically ships within 2 to 3 weeks.
Shipping and delivery info: UPS, USPS & FedEx
About this product
Features
Ideal for any countertop overhang needing support
1/2"-thick heavy-duty American steel, 2-1/2" wide (click thumbnail image to view drawing)
Durable powder-coated finish in black or white; or choose raw steel (must be finished to avoid oxidation)
6 lengths, from 8"L to 18"L
Four 14 x 2 1/2" Phillips Flat Head Screws (Included) secure bracket to top of pony wall (see thumbnail image)
End of bracket's horizontal end is beveled for safety
Carrying capacity: 325 pounds per bracket
Important Notes
Select a length that will leave no more than 4" to 6" of overhang unsupported.
Brackets should be spaced no more than 16" to 18" apart, center on center.
Installation requires notching out sections (2-1/2"wide x 1/2" deep) on the top of the wall base (see thumbnail image).
A countersunk hole is drilled into the underside of each bracket, 1.5" in from its end (see last thumbnail image). A 1.25"-long screw is provided. These holes and screws help secure the wood top to the brackets and prevent bowing. The screw's diameter is small enough to allow for wood expansion & contraction.
Hidden Flat Brackets Designed for Kitchen Island Bars atop Pony Walls
These virtually hidden brackets are designed for supporting kitchen island overhangs. An array of brackets, each 2-1/2 inches wide and ideally spaced no more than 16 to 18 inches apart, can effectively support any overhanging countertop. These are the brackets that professional island makers and remodeling contractors prefer for supporting heavy countertops, even those made of granite or quartz.
The installation process is fairly simple. First, notches 2.5" wide x .5" deep must be cut into the top of the cantilevered side of the island base. One support bracket will be nested into each cutout and the bracket's "T" end will be attached to the inside of the island base on the side opposite the cantilever, using screws provided.
These Pony Wall Brackets Come in Six Sizes and Three Colors
While most of each individual bracket will be totally hidden beneath the island's top, a portion of each bracket will still be visible to someone looking at the underside of the cantilever from below. That's why the otherwise-hidden bracket is available in three different colors. Black and white brackets come powder-coated for added durability.
In order to ensure adequate support of the cantilevered portion of your island or counter top, be sure to order brackets of a length that will leave no more than 4 to 6 inches of the extension unsupported. With 6 different lengths to choose among, you should be able to find a size that fits your new construction or remodel project.
Need Help Deciding Which Countertop Overhang Supports Are Right for Your Situation?
This decision tree might help you think through options, narrow your choices, and make a final decision.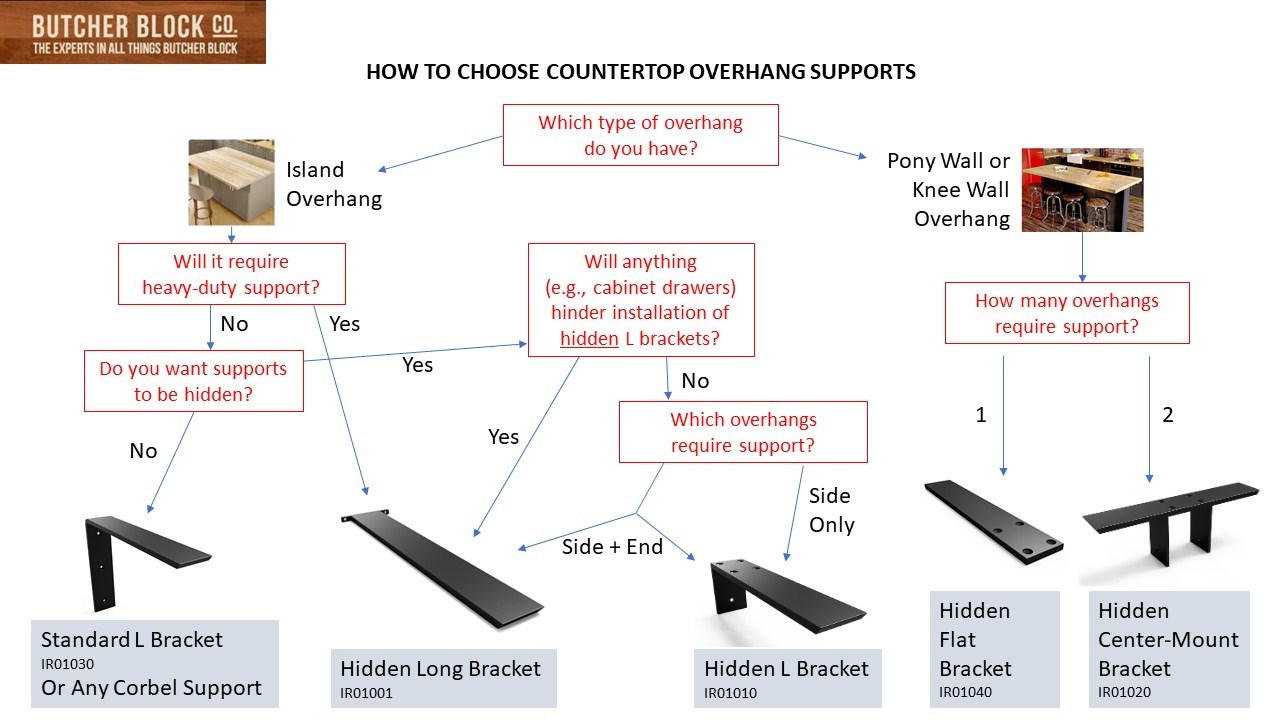 How to determine which size hidden flat-bracket you need.
i. Measure the distance from inside edge of wood support frame to outside edge of overhang.
ii. Subtract 4" to 6" for portion of overhang to be left unsupported.
iii. Select the bracket length equal to your result, or the next larger size.
Details
| Sale Price | Color | Length (in.) | Width (in.) | Thickness (in.) | Weight (lbs.) |
| --- | --- | --- | --- | --- | --- |
| $32.00 | Black/White | 8 | 2.5 | 0.5 | 3.0 |
| $33.00 | Black/White | 10 | 2.5 | 0.5 | 4.0 |
| $33.00 | Black/White | 12 | 2.5 | 0.5 | 5.0 |
| $34.00 | Black/White | 14 | 2.5 | 0.5 | 5.0 |
| $35.00 | Black/White | 16 | 2.5 | 0.5 | 6.0 |
| $37.00 | Black/White | 18 | 2.5 | 0.5 | 7.0 |
| $27.00 | Raw Steel | 8 | 2.5 | 0.5 | 3.0 |
| $28.00 | Raw Steel | 10 | 2.5 | 0.5 | 4.0 |
| $28.00 | Raw Steel | 12 | 2.5 | 0.5 | 5.0 |
| $29.00 | Raw Steel | 14 | 2.5 | 0.5 | 5.0 |
| $30.00 | Raw Steel | 16 | 2.5 | 0.5 | 6.0 |
| $32.00 | Raw Steel | 18 | 2.5 | 0.5 | 7.0 |
Satisfaction Guarantee
Damaged Goods Will Be Promptly Replaced
Although support brackets and corbels are securely packed to withstand rough handling during shipment, occasionally shipping damage does occur. If an item arrives damaged, or your shipment is incomplete, please notify us within 5 days of receipt. We will work quickly to resolve any issues.
Returns Are Subject to a 20% Restocking Fee
In the event you decide to return any item(s) please contact us at [email protected]. Returns/refunds for merchandise can be made within 30 days of delivery, as long as items are in new and resalable condition (this means the items have not been installed or used). You must repack the unused and undamaged merchandise in its original packaging and ship it at your expense.
You will be refunded or credited the price paid for returned merchandise, less a 20% restocking fee. Also, please understand that if you neglect to pre-pay return-shipping costs, they will be deducted from your net refund amount.
Lowest-Price Guarantee
If you find the identical, brand new product for less (including shipping & handling) on another website within 3 days of your purchase, email us the URL of the webpage where you found the lower-price offer. If the online seller is an authorized John Boos dealer, we will refund the difference. Butcher Block Co. will not always be able to match a lower price offer (e.g., in cases where doing so would violate legal agreements between us and our manufacturer-partners) and any refund may be limited (e.g., in cases where the competing offer is below our total cost).
Manufacturer
Iron Support Brackets and Corbels Support and Secure Counter and Island Top Overhangs